Are you looking for an effective way to do content marketing for a fitness business?
Do you want to use it as an effective tool in your overall strategy, but aren't sure where to begin?
Content marketing is quickly becoming a must-have tool for driving success in the fitness industry. 
By leveraging new and engaging forms of content, fitness businesses can generate qualified leads and create an online community that appreciates their products and services. In addition to boosting brand awareness and credibility, content marketing also helps fitness companies foster long-term customer relationships. 
From creating helpful fitness blogs to showing off the latest fitness trends on social media, there are countless opportunities to capture the attention of customers through content marketing and draw them into a lasting relationship.
 With an effective content marketing strategy in place, fitness companies can unlock a wealth of opportunities and attract more customers than ever before. 
But how do you maximize the effectiveness of content marketing for a fitness business? 
In this blog post, we'll dive into some of the most innovative strategies for using content marketing within a fitness-related organization or business. 
With just a few tips and tricks, you can learn how to engage your target audience while using modern tactics that maximize effectiveness.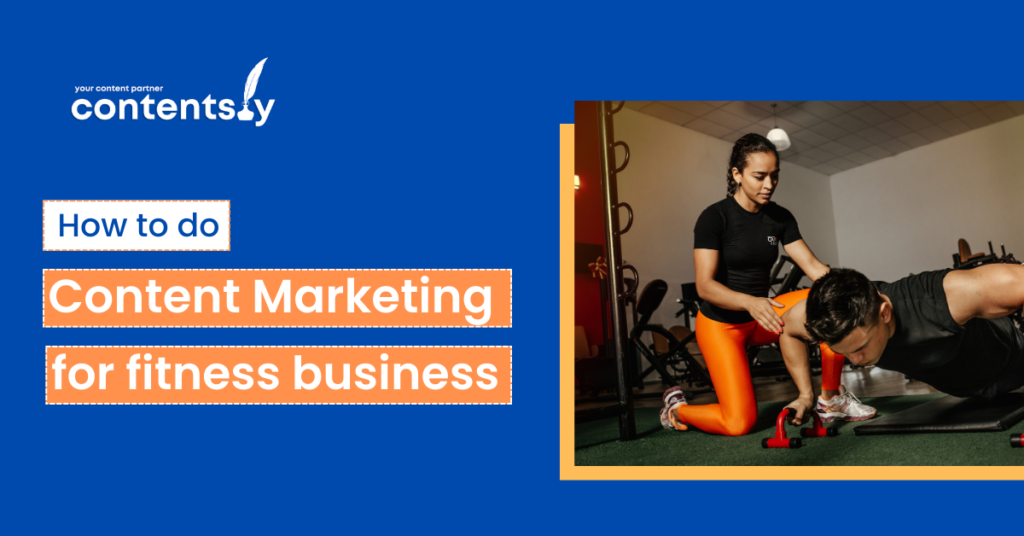 11 effective ways to do content marketing for fitness business
Blogging is a great way to attract and retain visitors on fitness business websites. By sharing informative and engaging articles, readers can gain knowledge while having an enjoyable experience.
Whether it's tips for keeping up with fitness trends, how-to fitness guides, or fitness inspiration stories, fitness business blogs contain content that matters to fitness fans.
Keep the tone positive, entertaining, and full of fresh ideas in order to help create a lasting connection with those readers.
Not only will this strategy help increase website engagement and viewership but also encourage readers to come back time and time again for valuable fitness advice.
Get SEO friendly article for your fitness business, TODAY!
Utilizing social media platforms like Instagram, Facebook, and Twitter are a great way to help fitness businesses share fitness tips, workout routines and success stories from clients.
Through creative posts that feature inspiring images and videos, fitness businesses can leverage their social media channels to motivate their followers and show the world the amazing accomplishments that their clients have had through their guidance.
By engaging with potential customers in the online space and providing them with valuable fitness advice and real results, fitness businesses can establish themselves as leaders within the fitness industry.
Influencer marketing is gaining traction as an effective tool for fitness brands to reach new, large audiences. Collaborating with fitness influencers can lead to increased brand visibility and credibility, as influencers have already established a large following and trust within their community. 
A fitness company could benefit from partnering with the right fitness influencer to help promote their product or services and get noticed among potential customers in the fitness industry. 
Influencers can be used to leverage other people's networks, create diverse content and generate valuable word-of-mouth recommendations from a strong fan base. 
Working together with the correct fitness influencer, who has a verified history of advertising ethical services, can create a powerful platform for promoting products within the fitness industry.
In the fitness industry, creating engaging video content is an important part of growing an audience and building a loyal following. 
Whether you are providing fitness tips through workout tutorials, showing off your portfolio through client testimonials, or answering fitness-related questions during a live Q&A session, all of these types of video content offer great opportunities to showcase your expertise in the fitness field. 
Not only will this help audiences feel more connected with you as an expert in fitness, but it also helps create a safe environment where people can come together to ask and answer questions related to fitness activities.  Video content helps build relationships between fitness professionals and their clients, resulting in higher levels of trust, loyalty and engagement.
Email marketing is a powerful tool for fitness businesses that are looking to increase their customer base. Regularly sending newsletters to subscribers with updates, special offers, and new content gives fitness companies the chance to stand out in the fitness industry. 
This type of communication provides fitness businesses with the opportunity to connect directly with their customers and build relationships. Additionally, email marketing allows fitness companies to keep customers informed and aware of updates and changes in the fitness industry in a more personal way than other forms of advertisement. 
Finally, including special offers such as discounts or promotions gives fitness businesses a competitive edge over their competitors while driving up sales.
Get high-quality content, created by humans for humans
In this day and age, fitness communities are a great way to increase engagement and develop brand loyalty within the fitness industry. Creating an inviting atmosphere for your clients through events, challenges, and forums promotes community building.
 By forming relationships between members of different fitness levels and backgrounds, you can create a network of motivated individuals who inspire one another and build upon each other's success. Events hold members accountable for reaching their fitness goals in a positive and supportive environment. 
Finally, forums act as virtual meeting places allowing users to ask questions as well as access feedback from fellow fitness enthusiasts.
To remain competitive in the fitness industry, businesses need to make sure their website is doing all it can to optimize its visibility online. SEO optimization helps to ensure that your website and content will appear higher on search engine results, driving organic traffic from potential customers. 
By implementing processes such as keyword research and link-building, you can increase the visibility of your fitness business on the web and get more potential clients interested in your services. 
By regularly monitoring changes within the fitness industry, like analyzing customer feedback and creating new content about fitness trends, businesses can stay at the forefront of SEO optimization for an increasingly saturated market.
To stay competitive in the fitness industry, researching key words is a crucial part of the process. Keyword research helps fitness businesses understand what terms their customers are using to search for product information, allowing them to better target marketing efforts and create content material tailored to their audience. 
Regular keyword research allows fitness businesses to keep track of how their competition is investing and generating more efficient methods of reaching potential customers. By researching all possible terms related to fitness can help fitness companies grow their brand presence, increase visibility with consumers and draw more traffic in return. 
Knowing the most relevant fitness-related keywords is an essential tool for producing content that resonates with
The fitness industry is competitive, making it important for businesses to be strategic in their marketing tactics. Paid advertising offers a viable solution for fitness companies looking to engage an audience and drive conversions. 
With services such as Google Ads or Facebook Ads, fitness brands can target specific demographics based on their interests and behaviours. 
This powerful technique allows fitness companies to connect with potential customers in an effective, fast-paced manner while controlling their spending and budgeting in the process. 
When employed properly, paid advertising can take fitness brand visibility and growthy to a whole new level!
10. User-generated content
User-generated content is incredibly valuable in the fitness industry, where reviews and testimonials from real people can be a huge draw for customers. 
Research shows that 82% of customers are likely to seek out online reviews before making a purchase, and visuals like photos and videos add an extra level of value. 
By incentivizing clients to share their results through visuals, reviews, or other forms of feedback, fitness clubs can increase social proof for their services and demonstrate their credibility.
 This can help attract new customers and also foster loyalty among existing clients.
Consistency is key to success in the fitness industry. Not only must fitness professionals consistently stay on top of the latest trends, but they also need to impart their knowledge in a way that connects with their clients and motivates them in a positive manner over time. 
By creating a sustained presence with consistently timed pieces of content such as fitness hacks or healthy eating tips, fitness studios can build meaningful relationships with their audience and drive customer loyalty over time.
Summary of how to do content marketing for fitness business
Content marketing is a powerful tool for fitness businesses that want to reach more customers and increase their sales. 
By applying some of the effective ways outlined, fitness industry professionals can leverage content marketing to create meaningful connections with their audiences – these connections being the foundation of trust between fitness business and audience. 
When done in the right way, content marketing can improve brand awareness, convert leads into sales, and help companies stay ahead of their competition. 
With dedication and consistency, fitness businesses can create an online presence with content marketing that will yield them excellent results. 
If you're looking for ways to boost your fitness business's profitability, start by exploring the world of content marketing – it just might be the answer you've been looking for!
Your Content Writing Partner
Get high-quality content which have E-E-A-T